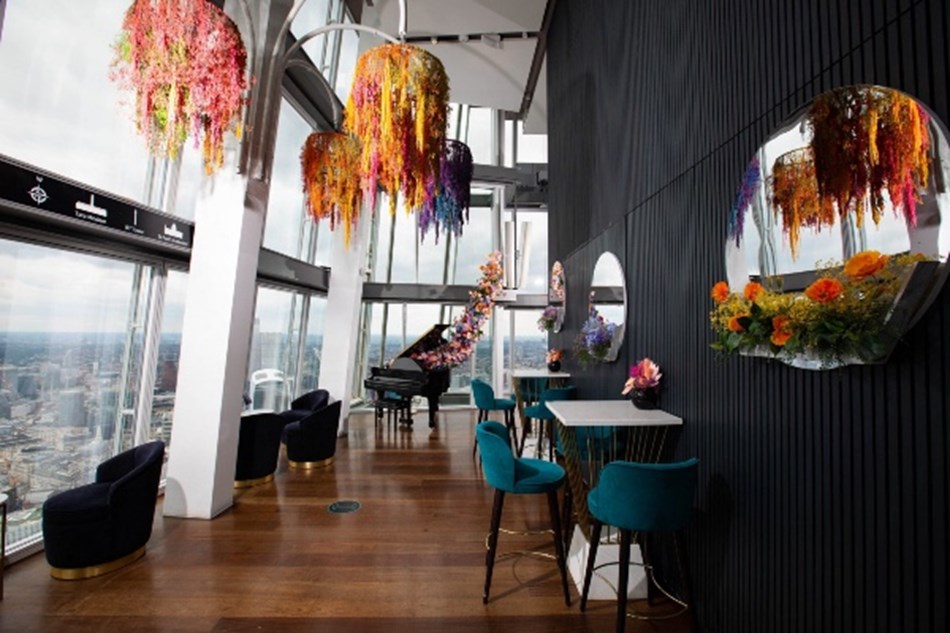 Avant Garden at The Shard & Afternoon Tea on The Thames
Avant Garden - here for summer only!
Details
Pick-up points (Route 4d)
Request tickets
This tour has been and gone, but don't worry, we've got lots more Great Days Out to choose from.
Celebrate summer in the city at Avant Garden at The View From The Shard! Experience London at new heights with 360 panoramic views and an Open-Air Skydeck, all with a floral twist! This special summer installation draws inspiration from classic English gardens and iconic London events, such as The Chelsea Flower Show, featuring unique soundtracks and floral scentscapes! There's even the rare opportunity to play a grand piano 300 metres above London! If that's not enough, their resident expert mixologists have combined summery scents and floral flavours to create a great choice of seasonal cocktails!
Then, back to ground level for a cruise along the River Thames, taking in the sights from a different perspective. Enjoy afternoon tea whilst cruising past some of London's greatest landmarks. There's an appetising menu on offer including a selection of sandwiches, sultana scones with clotted cream and jam, Chef's selection of mini pastries and a choice of flavoured teas or fresh filtered coffee.
We're due to arrive in London at 11:30, your entry to The Shard will be confirmed later but will be between 12:00 and 13:00. At 14:15 we'll transfer you to Tower Pier ready for our 15:15/15:30 sailing which will last approximately 1.5 hours. If you wish to make your own way to Tower Pier please just let your driver know. The coach will depart London by 17:15. Please let us know of any dietary requirements.
Maxey (our office)
Market Deeping (Market Place Bus Stop)
Market Deeping (Godsey Lane, opp. Thackers Way)
Deeping Towngate East (Tavern Bus Stop)
Langtoft (A15 Bus Stop, northbound)
Baston (A15 Bus Stop, northbound)
Thurlby (A15 Bus Stop, northbound)
Northorpe (A15 Bus Stop, northbound)
Bourne (Elsea Park)
Bourne Bus Station
Bourne West Road (Bus Stop opp. corner of Beech Avenue)
Toft (A6121 Bus Stop, westbound)
Carlby (A6121 Bus Stop, westbound)
Essendine (A6121 Bus Stop, westbound, by the old hotel)
Ryhall (A6121 Bus Stop, westbound nr. Rutland Way)
Stamford (Ryhall Road Bus Stop, Gwash Way)
Stamford (opp. Berkeley Court, Ryhall Road)
Stamford (Bus Stop opp. corner of East Street/Recreation Ground Road)
Stamford Bus Station
Stamford (Danish Invader)
Peterborough Extra Services
Buckden (The Lion)