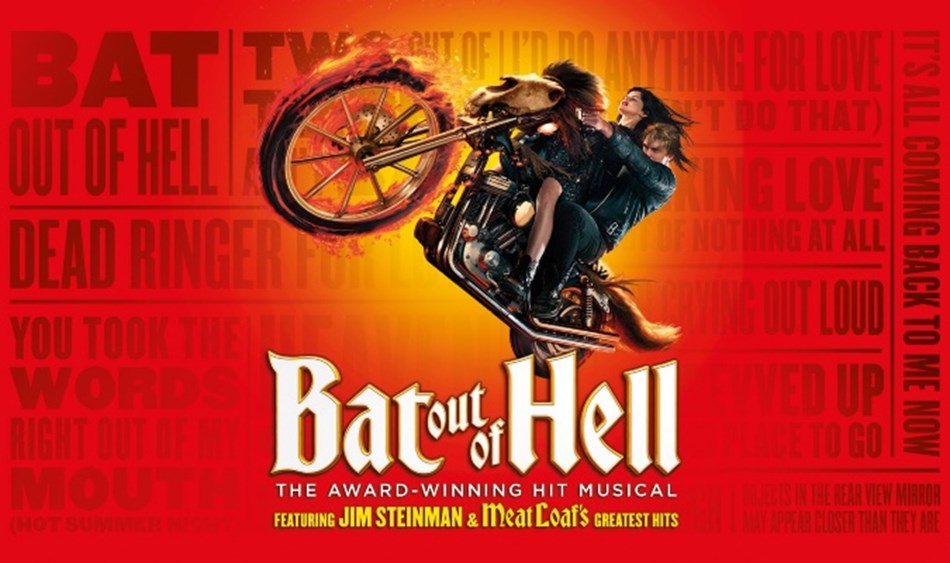 Bat Out Of Hell, Birmingham Alexandra Theatre
Stalls seats
Details
Pick-up points (Route 1b)
Request tickets
This unique production combines the magic of a musical with the energy of rock 'n' roll, bringing to life the legendary anthems of Jim Steinman and Meat Loaf. This award-winning and critically acclaimed production thunders its way through iconic hits including I'd Do Anything For Love (but I won't do that), Paradise by the Dashboard Light, Two Out of Three Ain't Bad and of course Bat Out of Hell.
5 star reviews from Metro, The Independent, The Daily Express, The Manchester Evening News and The Daily Mirror and winner of Best New Musical at the audience-voted London Evening Standard Theatre Awards. Click to watch the You Tube trailer.
We've secured Band A stalls seats for this afternoon's performance at Birmingham Alexandra Theatre. We're due to arrive in Birmingham city centre at 12:30 giving you time to grab a spot of lunch before the 14:30 show. We're due to leave Birmingham at 17:15.
Recommended age 13+
Maxey (our office)
Market Deeping (Godsey Lane, at the corner of Thackers Way)
Market Deeping (The Stage)
Werrington Centre Bus Stop (Goodwin Walk)
Werrington Green (Fulbridge Road)
Paston Church Bus Stop
Bretton Centre Bus Stop
Westwood (St. Judes Church)
Peterborough Centre (TK Maxx Bus Stop, Bourges Boulevard)
Fletton Bus Stop (corner of Fletton Avenue/Fairfield Road)
Stanground (Whittlesey Road Bus Stop, opp. Tesco Extra)
Serpentine Green Hampton Bus Stop (please park close to Tesco's Click & Collect building)
Peterborough Extra Services
Warmington Bus Stop (A605)