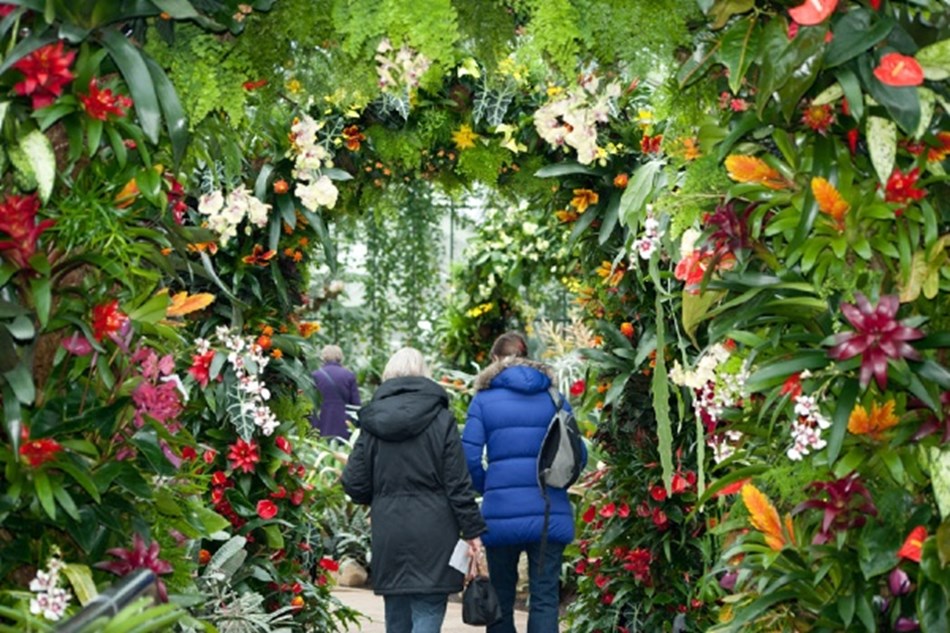 Kew Gardens Orchid Festival
Book soon
Details
Pick-up points (Route 4d)
Request tickets
Central America is a biodiversity hot spot that's just bursting with vivid colours and complimented by a lively culture! Weave your way through Kew's Princess of Wales Conservatory as you delve deep in to one of the most diverse places on Earth. Expect to find amphibians, reptiles and insects sculpted from plants and the glasshouse pond alive with oranges and yellows to imitate a rising sun.
And if that's not enough, you'll find an 18m high Treetop canopy walkway, spectacular views across London from the recently restored Great Pagoda, Earth, Air, Sun and Water themes in the new Children's Garden, a towering interactive sculpture named 'Hive' that captures the life of the honeybee, 14,000 trees in the Arboretum including Giant redwoods and mighty oaks, 130 species in the Bamboo Garden (with its own traditional Japanese Minka House), a dramatic Rock Garden, stunning scents from the Rose Garden, a sun-kissed Mediterranean Garden, endless trails to explore ... the list goes on! 
We're due to arrive at 12:00 and depart at 16:15, giving you a full afternoon to enjoy this colourful fiesta.
Please check Kew's website for any specific attractions that might require pre-booking, entry to the Orchid Festival is included.
Maxey (our office)
Market Deeping (Market Place Bus Stop)
Market Deeping (Godsey Lane, opp. Thackers Way)
Deeping Towngate East (Tavern Bus Stop)
Langtoft (A15 Bus Stop, northbound)
Baston (A15 Bus Stop, northbound)
Thurlby (A15 Bus Stop, northbound)
Northorpe (A15 Bus Stop, northbound)
Bourne (Elsea Park)
Bourne Bus Station
Bourne West Road (Bus Stop opp. corner of Beech Avenue)
Toft (A6121 Bus Stop, westbound)
Carlby (A6121 Bus Stop, westbound)
Essendine (A6121 Bus Stop, westbound, by the old hotel)
Ryhall (A6121 Bus Stop, westbound nr. Rutland Way)
Stamford (Ryhall Road Bus Stop, Gwash Way)
Stamford (opp. Berkeley Court, Ryhall Road)
Stamford (Bus Stop opp. corner of East Street/Recreation Ground Road)
Stamford Bus Station
Stamford (Danish Invader)
Peterborough Extra Services
Buckden (The Lion)