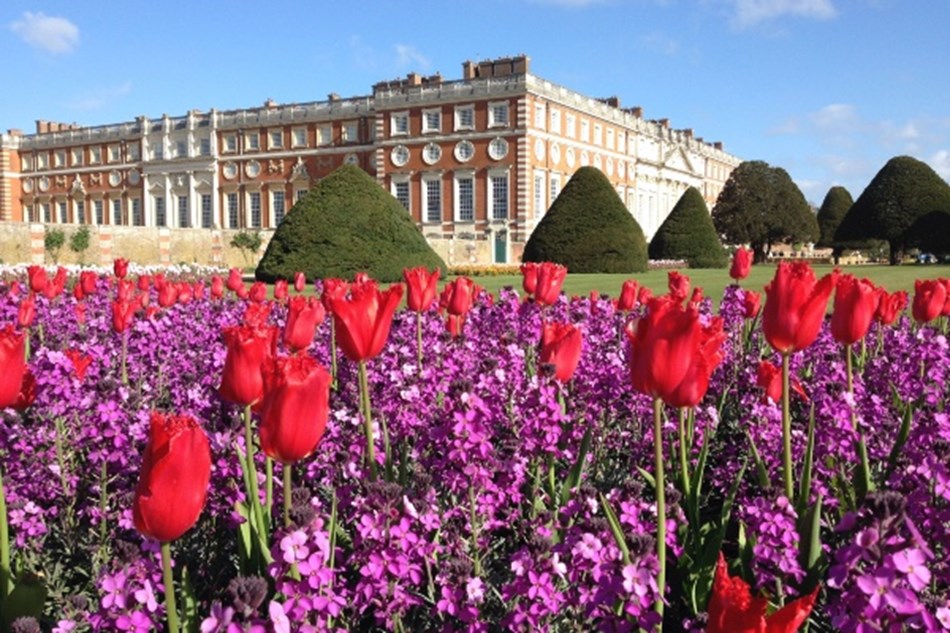 Hampton Court Palace Tulip Festival
palace entry included
Details
Pick-up points (Route 4d)
Request tickets
In autumn 2020 talented gardeners were busy planting over 100,000 bulbs in preparation for Hampton Court Palace's first ever Tulip Festival! In Spring 2021 the gardens and courtyards came alive with a kaleidoscope of colour as thousands of tulips came in to bloom. The event was declared a huge success and we're thrilled to see it return in 2022.
Expect to find a special trial that will guide you around the stunning displays, revealing the history of the tulips, believed to date back to Mary II (1662-1694). The Palace's expert gardening team will be on hand to provide tips and information to keen gardeners throughout the day. Palace entry is included so take time to explore the magnificent Tudor court. Learn more about the famous home of Henry VIII and all the upheaval that descended from this most theatrical and turbulent royal reign.
We're due to arrive at 12:30 and depart at 17:30 giving you a full afternoon to soak up this colourful atmosphere.
Image: Hampton Court Palace Tulip Festival ©Historic Royal Palaces
Maxey (our office)
Market Deeping (Market Place Bus Stop)
Market Deeping (Godsey Lane, opp. Thackers Way)
Deeping Towngate East (Tavern Bus Stop)
Langtoft (A15 Bus Stop, northbound)
Baston (A15 Bus Stop, northbound)
Thurlby (A15 Bus Stop, northbound)
Northorpe (A15 Bus Stop, northbound)
Bourne (Elsea Park)
Bourne Bus Station
Bourne West Road (Bus Stop opp. corner of Beech Avenue)
Toft (A6121 Bus Stop, westbound)
Carlby (A6121 Bus Stop, westbound)
Essendine (A6121 Bus Stop, westbound, by the old hotel)
Ryhall (A6121 Bus Stop, westbound nr. Rutland Way)
Stamford (Ryhall Road Bus Stop, Gwash Way)
Stamford (opp. Berkeley Court, Ryhall Road)
Stamford (Bus Stop opp. corner of East Street/Recreation Ground Road)
Stamford Bus Station
Stamford (Danish Invader)
Peterborough Extra Services
Buckden (The Lion)