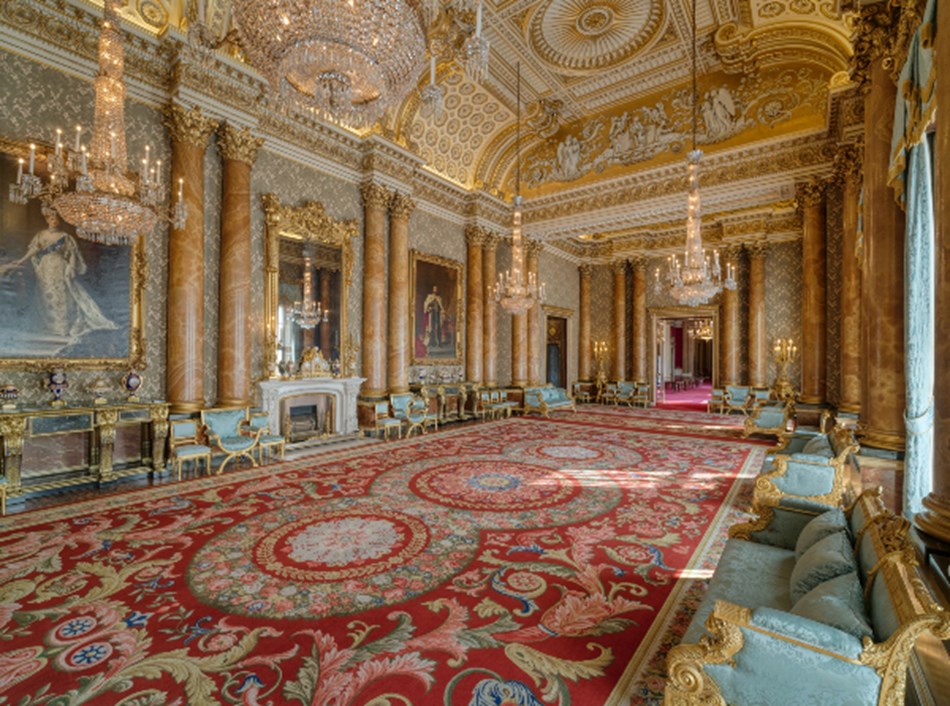 Buckingham Palace State Apartments
open for summer only
Details
Pick-up points (Route 4c)
Request tickets
Step inside the magnificent State Rooms at Buckingham Palace during this special Platinum Jubilee Year. These grand rooms are still used for ceremonial occasions and official entertaining and are furnished with many of the greatest treasures from the Royal Collection. Highlights include the White Drawing Room where members of the Royal Family gather before official occasions and The Throne Room, used by The Queen for official court ceremonies.
In celebration of the historic Platinum Jubilee in 2022 the State Rooms will feature a special display marking The Queen's accession to the throne in 1952. Expect to see the first official portraits of the young Queen and items of personal jewellery. On display is the Diamond Diadem, created for the famously extravagant coronation of George IV in 1821. Don't miss this special display which finishes on 2 Oct 2022.
Click here for a glimpse into the grandeur. 
*Convert your entry ticket to a free 1-year pass to Buckingham Palace State Rooms! Just remember to get your ticket stamped by a member of staff before you leave*
We're due to arrive in London at 12:15 with free time before our timed entry to the Palace at 13:30. We're due to leave at 17:00.
We're back at Buckingham Palace on Thur 25 Aug (route 1c).
Image: Blue Drawing Room, Buckingham Palace. Royal Collection Trust © Her Majesty Queen Elizabeth II 2022
Maxey (our office)
Market Deeping (Market Place Bus Stop)
Market Deeping (Godsey Lane, opp. Thackers Way)
Deeping Towngate East (Tavern Bus Stop)
Langtoft (A15 Bus Stop, northbound)
Baston (A15 Bus Stop, northbound)
Thurlby (A15 Bus Stop, northbound)
Northorpe (A15 Bus Stop, northbound)
Bourne (Elsea Park)
Bourne Bus Station
Bourne West Road (Bus Stop opp. corner of Beech Avenue)
Toft (A6121 Bus Stop, westbound)
Carlby (A6121 Bus Stop, westbound)
Essendine (A6121 Bus Stop, westbound, by the old hotel)
Ryhall (A6121 Bus Stop, westbound, nr. Rutland Way)
Stamford (Ryhall Road Bus Stop, Gwash Way)
Stamford (opp. Berkeley Court, Ryhall Road)
Stamford (Bus Stop opp. corner of East Street/Recreation Ground Road)
Stamford Bus Station
Stamford (Danish Invader)
Peterborough Extra Services