Trusted Coach Hire
Whether it's a local, national or international journey we're here to help. We're based close to Peterborough with easy access to the A1. Our fleet of modern coaches includes 27, 49 and 53 seat vehicles.
Our drivers are consistently praised for their skills, safety and friendly welcome. You can be certain of an experienced, courteous and uniformed driver at the wheel. All our drivers undergo enhanced DBS checks and take part in regular training to maintain their Certificate of Professional Competence. Our coach hire customers include schools, colleges, corporates, weddings, social clubs, local groups and even just fun days out with friends and family.
We're always happy to provide you with a FREE, bespoke, no-obligation quotation. We can usually provisionally hold a date for seven days whilst you make your decision. Complete the free quote form or drop us an email with your requirements.
Coach features
Seating plan
BUSK
Offers
Reviews
Booking conditions
Free quote
All our coaches feature:
Seat belts
Reclining seats
Reading lights
Arm rests
Radio
PA System
Individual fresh air controls
Air suspension
Our 49 seat executive class coaches also feature:
Refreshment station
Toilet
Foot rests
Individual air conditioning controls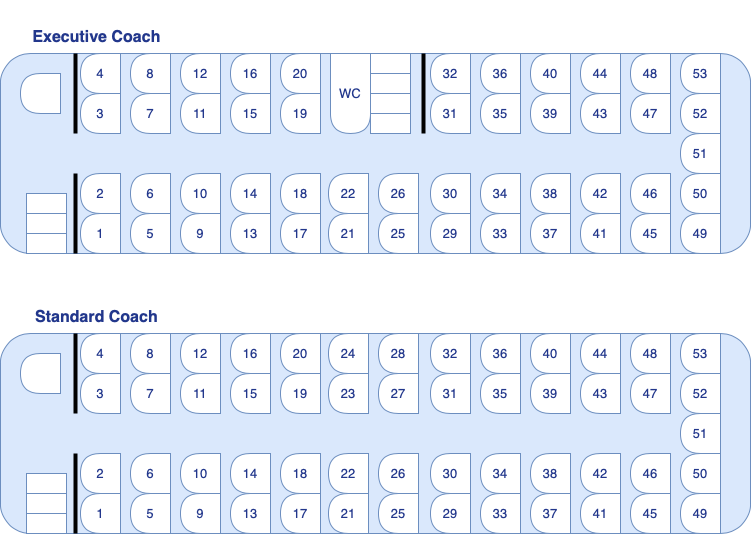 BUSK works to promote safe road transport and we are a proud BUSK Benchmark member with the maximum six star rating. The most recent national guidance recommends using a transport provider that holds this accreditation - view our BUSK Benchmark Certificate.
BUSK Benchmark is the UK's first and only completely independent star rating for the minibus and coach industry based on safety and legal requirements. It is the logo to look for every time you arrange an outing for others. When you book with us you can be confident knowing that you are hiring from a national guidance recommendation and that we have already been independently background checked for your safety. View our Safety Charter here.
We are independently audited involving checks that look at how our company is run, what systems are in place to safeguard passengers and to what standard our drivers are trained, including a random spot check. The standards set by BUSK Benchmark are higher than the legal minimum requirement.
Independent National Guidance has been prepared that will help you hire a coach safely, we fully support these recommendations and point you in the direction of this comprehensive document.
Remember, if a quote looks too good to be true it usually is. We'll always we as competitive as we can, and we'll always offer you the best service.
Two free tickets for teachers at Silverstone this summer. Silverstone Interactive Museum offers a unique and educational environment with a focus on STEM and History. Visit this summer to find out what they have to offer your pupils. Click to book.
Read our top tips for primary schools to help you get the best deal.
Keep an eye on this page for more offers.
"Thank you for your service last Friday. First class as normal" School visit, June 2022
"Just to say perfect coaching and Carl was a wonderful driver - many thanks indeed - it makes all the difference to a tour." Heritage Touring, June 2022
"Thank you so much for all your help with this event. Everything your side was completely spot on - as ever!" Corporate event, May 2022
"We had a lovely day out and the driver and coach were excellent." Social event, April 2022
"Thanks to Michael for his expert driving last weekend, especially down those narrow roads with overloaded bale trailers coming the other way! He was great to work with, and good company on our tour." School residential, Mar 2022
"We had a wonderful time and Graham was a star and a real credit to Shaws. Timings were to perfection and my email inbox was full of compliments this morning." Society day out, Feb 2022
"The trip was a huge success and made even better by the lovely driver, Les, and your services." School trip, Jan 2022
"Everyone had a fabulous time and as usual the coach was there promptly and driver spot on." Dec 2021
"Many thanks to the driver, Michal. What a super chap and so friendly. He is a credit to you at Shaws." Youth group visit, Dec 2021
We're always happy to provide you with a FREE, bespoke, no-obligation quotation. We can usually provisionally hold a date for seven days whilst you make your decision and review our Coach Hire Booking Conditions.