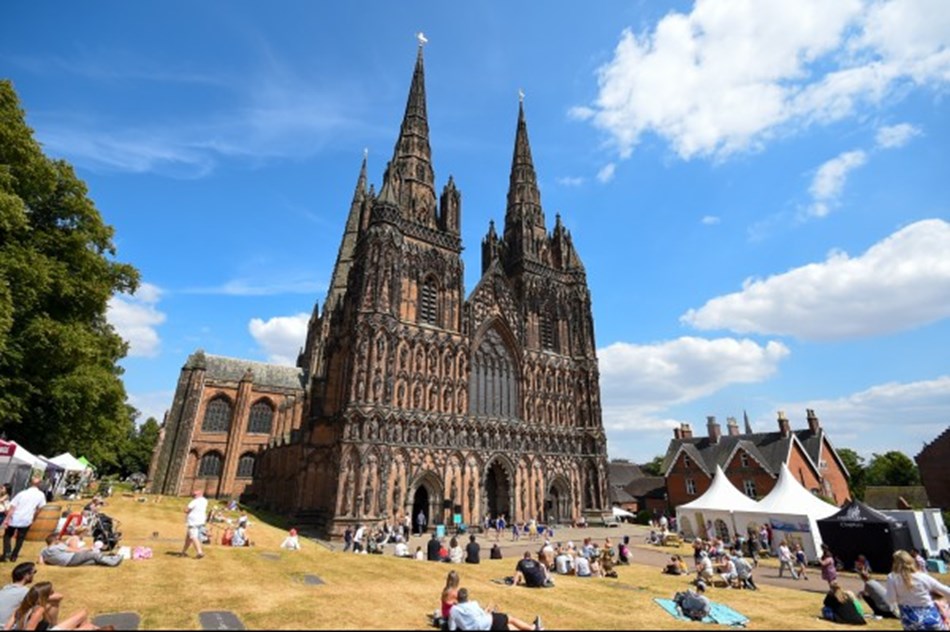 Details
Pick-up points (Route 4a)
Request tickets
You'll find over 1300 years of history in Lichfield's unique cathedral, famous for being the only medieval three spired cathedral in the UK. Once fortified on three sides by stone walls and Minster Pool on the fourth, you'll find that it's now a welcoming spot complete with a medieval wall painting and the famous Herkenrode stained glass.
From the Cathedral, head south-west along Minster Pool Walk and you'll find Beacon Park. Here you can enjoy over 70 acres of beautiful gardens and grasslands, perfect for a summer stroll. As you wander, keep an eye out for the information boards dotted around the park which will give you an interesting glimpse in to the city's rich history and heritage.
Lichfield was home to Charles Darwin's grandfather, Erasmus, who, as one of the UK's leading physicians famously declined the opportunity to be King George III's personal doctor, citing that he preferred life in Lichfield. Surely that's a good enough recommendation to visit? For a small entry fee it's possible to tour his stunning Georgian home and learn more about his biological work, without which Darwin may not have been able to prove his theory of evolution.
And of course there's plenty of shopping and eating choices too, amongst which you'll find The Samuel Johnson Museum which tells the story of his troubled childhood and financial poverty through to his famous 1755 publication of 'A Dictionary of the English Language'.
We're due to arrive in Lichfield at 11:30 and depart at 16:30, we'll set down close to The Friary, so you'll be in a central location ready to explore.
Maxey (our office)
Market Deeping (Market Place Bus Stop)
Market Deeping (Godsey Lane, opp. Thackers Way)
Deeping Towngate East (Tavern Bus Stop)
Langtoft (A15 Bus Stop, northbound)
Baston (A15 Bus Stop, northbound)
Thurlby (A15 Bus Stop, northbound)
Northorpe (A15 Bus Stop, northbound)
Bourne (Elsea Park)
Bourne Bus Station
Bourne West Road (Bus Stop opp. corner of Beech Avenue)
Toft (A6121 Bus Stop, westbound)
Carlby (A6121 Bus Stop, westbound)
Essendine (A6121 Bus Stop, westbound, by the old hotel)
Ryhall (A6121 Bus Stop, westbound, nr. Rutland Way)
Stamford (Ryhall Road Bus Stop, Gwash Way)
Stamford (opp. Berkeley Court, Ryhall Road)
Stamford (Bus Stop opp. corner of East Street/Recreation Ground Road)
Stamford Bus Station
Stamford (Danish Invader)
Easton-on-the-Hill (Exeter Arms)
Collyweston (The Slater)