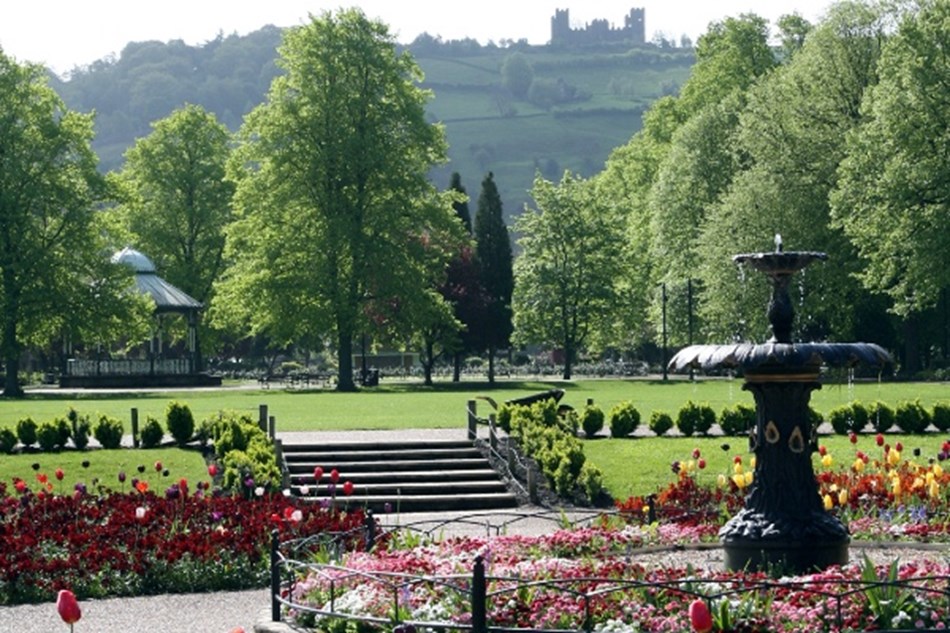 Matlock and Matlock Bath
two-stop tour
Details
Pick-up points (Route 1)
Request tickets
Find your way to Crown Square in Matlock for a great choice of independent shops, cafés and pubs. Award-winning Hall Leys Park (pictured) is well worth a wander, surrounded by towering green trees and full of colour in summer, with Riber Castle as your backdrop. Later, we'll head down river to Matlock Bath, enclosed by cliffs and full of charm. There are a number of riverside gardens, including Derwent Gardens where several thermal springs meet the river. Over the river from Derwent Gardens you'll find 'Lovers' Walks', where a series of footpaths wind their way through ancient woodland.
If you are feeling adventurous there's a 2.4 mile walk (roughly 90 minutes) from Matlock to Matlock Bath, via High Tor with clifftop views, but please investigate the route, bring suitable clothing and let your driver know your plans.
We're due to arrive in Matlock at 12:00 with a short stop at Notcutts Nottingham en route. We'll depart Matlock at 15:15 for the 15 minute journey to Matlock Bath and head home at 17:00. We'll set down at the Railway Station in Matlock and at Station Yard in Matlock Bath.
Maxey (our office)
Market Deeping (Godsey Lane, at the corner of Thackers Way)
Market Deeping (The Stage)
Werrington Centre Bus Stop (Goodwin Walk)
Werrington Green (Fulbridge Road)
Paston Church Bus Stop
Bretton Centre Bus Stop
Westwood (St. Judes Church)
Peterborough Centre (TK Maxx Bus Stop, Bourges Boulevard)
Fletton Bus Stop (corner of Fletton Avenue/Fairfield Road)
Stanground (Whittlesey Road Bus Stop, opp. Tesco Extra)
Serpentine Green Hampton Bus Stop (please park close to Tesco's Click & Collect building)