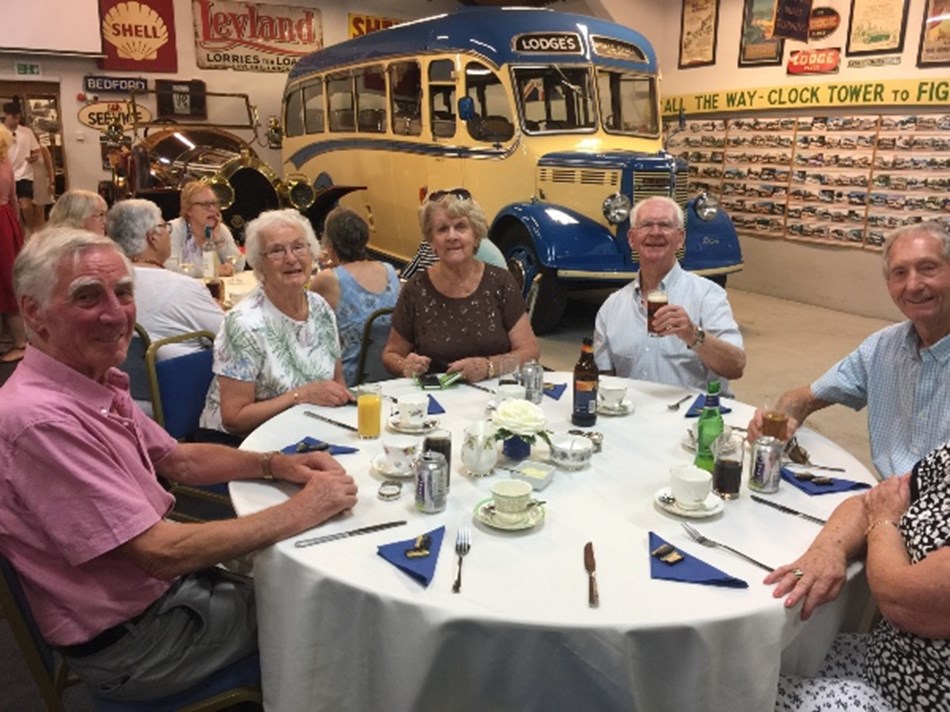 Vintage Essex - A trip down memory lane
Lunch, hot drinks, a guide & vintage rides included!
Details
Pick-up points (Route 4c)
Request tickets
Join us, and our friends at City & Village Tours, on a Blue Badge jaunt through Essex's picture postcard villages and an afternoon at Lodge Coaches HQ where you'll take a trip down memory lane with their immaculate collection of vintage coaches, topped off by two country rides in restored vehicles from the 40's and 50's.
We'll start the day in Thaxted where you'll meet your guide over tea/coffee at an old coaching inn. We'll take a gentle walking tour of the town weaving through its array of black and white striped and wonky colourful homes with tales from the Tudors and Georgians. From here we'll journey through the Essex countryside, enjoying the rolling hills and pretty villages from your raised vantage point on the coach. We'll pass through the chocolate box village of Finchingfield en route to High Easter.
We'll arrive in time for lunch at Lodge Coaches HQ in High Easter, where you can enjoy a ploughman's in the surroundings of their fantastic collection of vintage vehicles, some of which you might recognise from the TV and big screen. These beautifully restored coaches are sure to bring back fond memories of days out and add a touch more nostalgia to your day, especially as you'll be treated to rides out in to the local area on board these classic vehicles. Each person will enjoy two rides in these vintage coaches taking in some of the eight villages known as the 'Essex Rodings', these beautiful preserved and quaintly traditional settlements are bursting with thatched roofs, timber-framed manors and stone farmhouses. 
We're due to arrive in Thaxted at 10:30, lunch is arranged for 12:45/13:00 and we'll be ready to head home around 16:45, but not before finishing the day with a spot of tea and cake.
Please let us know of any dietary requirements that we may need to check for you.
Maxey (our office)
Market Deeping (Market Place Bus Stop)
Market Deeping (Godsey Lane, opp. Thackers Way)
Deeping Towngate East (Tavern Bus Stop)
Langtoft (A15 Bus Stop, northbound)
Baston (A15 Bus Stop, northbound)
Thurlby (A15 Bus Stop, northbound)
Northorpe (A15 Bus Stop, northbound)
Bourne (Elsea Park)
Bourne Bus Station
Bourne West Road (Bus Stop opp. corner of Beech Avenue)
Toft (A6121 Bus Stop, westbound)
Carlby (A6121 Bus Stop, westbound)
Essendine (A6121 Bus Stop, westbound, by the old hotel)
Ryhall (A6121 Bus Stop, westbound, nr. Rutland Way)
Stamford (Ryhall Road Bus Stop, Gwash Way)
Stamford (opp. Berkeley Court, Ryhall Road)
Stamford (Bus Stop opp. corner of East Street/Recreation Ground Road)
Stamford Bus Station
Stamford (Danish Invader)
Peterborough Extra Services