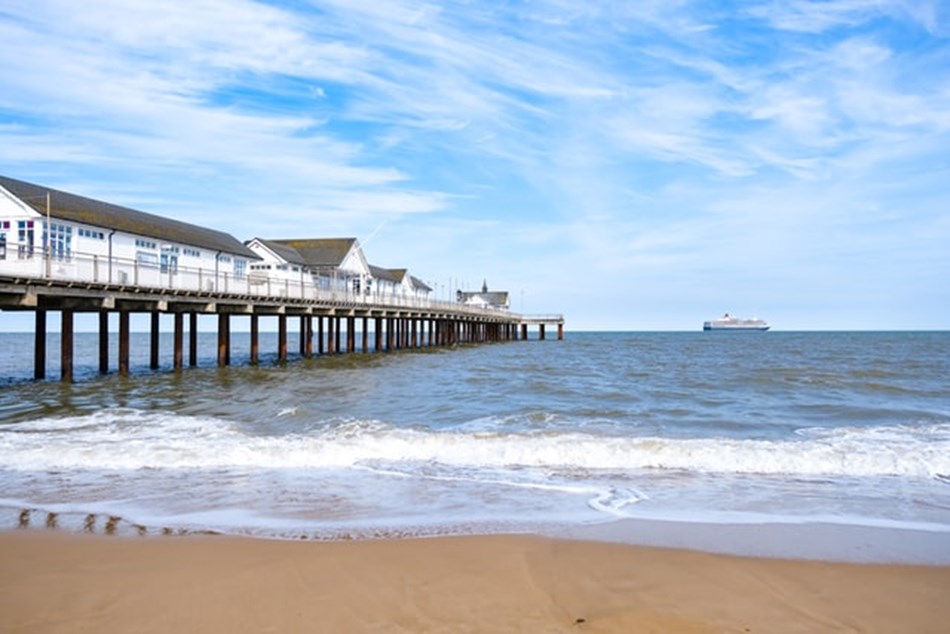 Southwold & Aldeburgh
LAST FEW SEATS
Details
Pick-up points (Route 1)
Request tickets
Start the day at the northern end of Southwold, near to the pier which was restored 20 years ago and now stands at 623m long. The pier offers lovely views of the seafront, the colourful beach huts and the historical town, it's a great spot to enjoy a drink on a summer's day. Look out for Tim Hunkin's famous Water Clock that's bound to give you a giggle as the hour strikes. Walk south from the pier and you'll find plenty of individual shops and boutiques in town, along with the prominent lighthouse that stands an imposing 31m above the roof tops. Take a wander up to Gun Hill for lovely coastal views but don't be put off by the six immense cannons that point out to sea behind you. They were given to the town in 1746 by the Royal Armouries to replace those that had previously defended the shoreline since 1672.
In July 2022 Southwold was awarded both a Blue Flag and Seaside Award. Blue Flags are internationally recognised and only presented to well-managed beaches with excellent water quality, Seaside Awards are presented to England's best beaches and celebrate the quality and diversity of our coastline.
Then on to Aldeburgh where the pretty pastel coloured homes that line the promenade make a lovely backdrop to the pebble beach. Aldeburgh is famously home to 20th century iconic composer Benjamin Britten and if you wander north along the beach and you'll find a 4m high 'Scallop' sculpture inscribed with the famous words from his opera Peter Grimes "I hear those voices that will not be drowned.". In town, you'll find boutique shops, ice cream, coffee and of course, fish and chips!
We're due to arrive in Southwold at 12:15 with two hours to enjoy the sea air. Then on to Aldeburgh where we're due to arrive at 15:00 and depart at 17:15. We'll set down at the Pier Car Park in Southwold and at Moot Hall in Aldeburgh. Both are central spots, allowing you to make the most of your time here.
Maxey (our office)
Market Deeping (Godsey Lane, at the corner of Thackers Way)
Market Deeping (The Stage)
Werrington Centre Bus Stop (Goodwin Walk)
Werrington Green (Fulbridge Road)
Paston Church Bus Stop
Bretton Centre Bus Stop
Westwood (St. Judes Church)
Peterborough Centre (TK Maxx Bus Stop, Bourges Boulevard)
Fletton Bus Stop (corner of Fletton Avenue/Fairfield Road)
Stanground (Whittlesey Road Bus Stop, opp. Tesco Extra)
Serpentine Green Hampton Bus Stop (please park close to Tesco's Click & Collect building)