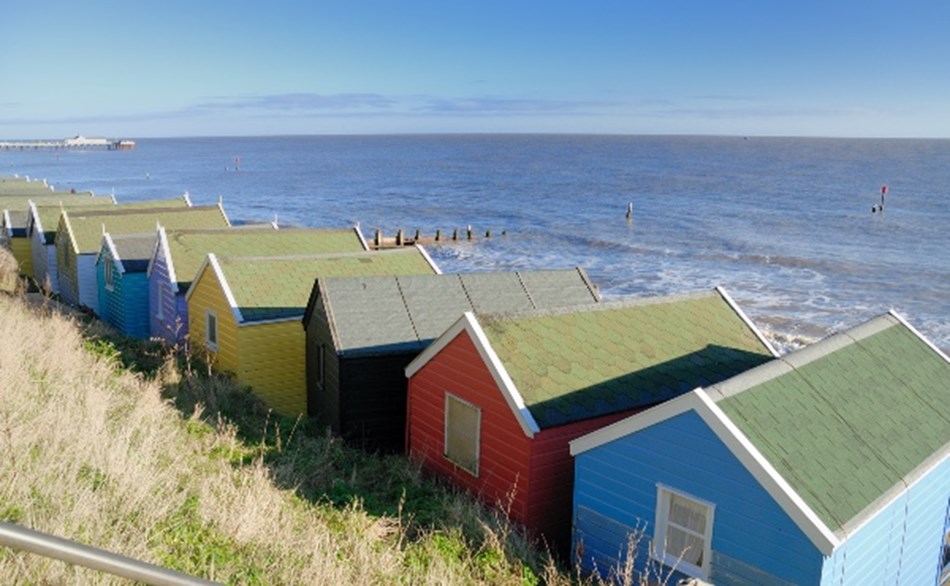 Suffolk Coastal Tour
Lunch and guide included
Details
Pick-up points (Route 1)
Request tickets
Let our expert guide tell you about the fragile but fascinating Suffolk Coast. We'll begin by passing through Orford and Snape en route to Aldeburgh, where the Moot Hall that once stood in the centre of town now teeters at the water's edge! On to Dunwich, a town claimed by the sea and known as 'the lost city of England'. Miraculously, despite the drama of the waves, the brilliant, family-run Flora Tea Rooms still thrive on the beach and it's here that we've booked a lunch stop.
In the afternoon, we continue to the elegant, Edwardian resort of Southwold passing by the quirky "House in the Clouds" at Thorpeness along the way. In Southwold you'll be guided through one of the finest medieval churches in England, which is home to the iconic "Southwold Jack". Then there's free time to enjoy the candy coloured beach huts that line the shore, take a stroll along the pier or watch the calming waves from the sandy beach.
We're due to arrive at Wyevale Garden Centre in Woodbridge at 10:30 to meet your guide before departing at 11:15 for our coastal tour, stopping at Aldeburgh. Lunch is included at the Flora Tea Rooms at 13:30 and at 14:45 we'll continue to Southwold for a tour and free time, departing at 16:45.
On the lunch menu is fish & chips with mushy peas and a slice, followed by a choice of dessert and hot drink. But please let us know of any dietary requirements that we may need to check for you.
Your elevated seating position and the panoramic windows make coach travel the perfect choice for guided tours like this.
Maxey (our office)
Market Deeping (Godsey Lane, at the corner of Thackers Way)
Market Deeping (The Stage)
Werrington Centre Bus Stop (Goodwin Walk)
Werrington Green (Fulbridge Road)
Paston Church Bus Stop
Bretton Centre Bus Stop
Westwood (St. Judes Church)
Peterborough Centre (TK Maxx Bus Stop, Bourges Boulevard)
Fletton Bus Stop (corner of Fletton Avenue/Fairfield Road)
Stanground (Whittlesey Road Bus Stop, opp. Tesco Extra)
Serpentine Green Hampton Bus Stop (please park close to Tesco's Click & Collect building)